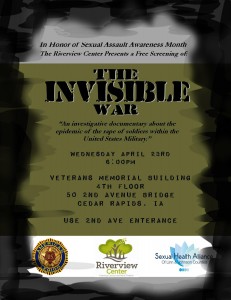 The Sexual Health Alliance of Linn & Johnson Counties is co-hosting a free screening of the documentary The Invisible War for Sexual Assault Awareness Month. The screening is happening Wednesday, April 23, 2014 at 6:00 pm at the Veterans Memorial Building, 4th floor, 50 2nd Ave. Bridge, Cedar Rapids. Use the 2nd Ave. entrance.
The Invisible War is an award-winning and critically-acclaimed documentary about sexual assault in the United States military. Here's a link to the trailer: http://www.youtube.com/watch?v=ECOqpv45tIo For more information about the documentary, go to: http://invisiblewarmovie.com/
SHA is co-sponsoring this screening with the American Legion and the Riverview Center.