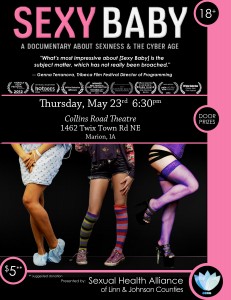 Please join us for a community showing of the documentary Sexy Baby. The documentary will be shown at 6:30pm on Thursday, May 23rd at the Collins Road Theatre.  Following the film there will be a brief interactive panel for group discussion. Panelists will include:
Matt Hobson, a Regional Epidemiologist for the Iowa Department of Public Health and a former Disease Prevention Specialist for the State of Iowa. He also taught Human Sexuality at University of Northern Iowa for 11 years.
Jenna Laib, a certified Domestic Violence and Sexual Assault Victim Advocate through the Iowa Coalition Against Domestic Violence and the Iowa Coalition Against Sexual Assault. She is currently the Family and Youth Advocate at Waypoint.
Parents, educators, college students and anyone interested in the effects that the internet has had on women's health and self-esteem are encouraged to attend.
Sexy Baby features three women and documents how the internet has altered their lives.  The first story follows a 12-year-old girl who is savvy, thoughtful and, like most teenagers, is interested in the internet and social media.  Her story highlights the challenges that come from social media and the need to balance sharing information while maintaining privacy.  The second story follows a self-conscious 22-year-old kindergarten teacher who is considering plastic surgery after her boyfriend negatively compares her body to internet porn stars'.  The final story follows a professional pole dance teacher and prior porn star who is trying to transition back into mainstream life.  Sexy Baby documents how the internet and the adult entertainment world have created a new sexual landscape and have skewed society's perceptions of what is 'normal' and beautiful.
The suggested donation for this documentary is $5.  Due to the content of this film, attendees should be 18 years or older.  For more information about this film or to see the trailer, please go to www.SexyBabyMovie.com.