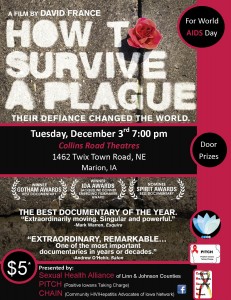 Please join us for a free community showing of the documentary How To Survive a Plague. The documentary will be shown at 7:00 pm on Tuesday, December 3rd at Collins Road Theatres (1462 Twix Town Road NE, Marion) for World AIDS Day.
In the 80s and 90s, two coalitions, ACT UP and TAG (Treatment Action Group), helped turn HIV/AIDS from a death sentence into a manageable condition. The critically-acclaimed documentary How To Survive a Plague tells the powerful story of these two coalitions.
Health professionals, college students, educators, parents and anyone interested in learning more about the history of HIV/AIDS activism is welcome to attend. The Sexual Health Alliance of Linn & Johnson Counties (SHA) is co-hosting this screening in partnership with the Community HIV/Hepatitis Advocacy of Iowa Network (CHAIN) and Positive Iowans Taking Charge (PITCH).
For more information about this film or to see the trailer, please go to surviveaplague.com. The film is unrated.
Anyone who attends the screening will be offered a coupon for a free rapid HIV test at Linn County Public Health (501 13th St. NW, Cedar Rapids) or at Johnson County Public Health (855 S. Dubuque St., Iowa City). In addition to the How To Survive a Plague screening, other events for World AIDS Day are taking place in Linn and Johnson Counties. Johnson County Public Health will be providing HIV testing to anyone at the Iowa City Public Library on Sunday, December 1 from 1-6 pm and at the Coralville Public Library on Wednesday, December 4 from 10 am – 3 pm. Free HIV testing for everyone will be available at Linn County Public Health on Wednesday, December 4 from 8:30 am – 4 pm.